TeamFlow simulation
Description
Can you deliver your projects, services or products faster?
Do you want to increase the predictability of their delivery?
Do you want to strengthen a culture of collaboration and improvement within your team?
Would you like to learn how to effectively manage work and not employees?
TEAM FLOW IS FOR YOU!
How does it work?
Each simulation is in the form of an interactive workshop, including:
An online simulation game using the Kanbanize platform
Presentations of practices and metrics that are the subject of the simulation
Exchange of collected experiences, reflections and ideas on effective work management
During each simulation, participants, working in teams of 5, learn and experience effective management. They will learn and deepen their knowledge of different Flow Management practices. Through experimentation, they will find effective organizational solutions and implement the learned Flow Management practices in the simulation. This will bring them closer to a smooth flow, greater cooperation, and better business results. They will verify the effectiveness of introduced solutions and practices by analyzing metrics collected during the simulation, such as Cycle Time and Throughput, and by creating a CFD (Cumulative Flow Diagram) showing the status of work at each stage of the workflow.
At the end of each simulation we will make a summary: we will collect reflections, experiences and conclusions from the simulations and relate these experiences to the real work of workshop participants. Participants will also identify Flow Management practices and organizational solutions that they can implement in their own environment to achieve workflow and increase collaboration within teams.
We will also consider what can be done to change the entire organization to achieve business agility at the project level as well as at the company level when using Flow Management.
Depending on the proficiency of the group, we offer 2 versions of TeamFlow simulations:
Manager - for managers, leaders, owners of companies and/or business areas
Professional - for members of project and/or product teams, people empowering management processes
The simulation is carried out by a team of 5 participants led by one facilitator - a Flow Management expert. In case of a larger number of teams, the simulation is run by two facilitators. A maximum of 4 teams can participate in the simulation simultaneously.
Are you interested in the simulation? Contact us!
Scope
Scope depends on a choosen option simulation only / workshop with simulation
Flow Management and Kanban as an answer to project and work management challenges
Flow Management Practices
Simulation game 2-3 rounds
Workshop summary
Tips for applying in your work environment
Target group
Managers, Leaders
Project and/or product team members
Business owners, heads of business areas
Individuals with experience in functional and/or project team management or project management (both agile and traditional/classical methods)
Benefits
Acquiring the ability to create a stable work environment
Developing a work system with greater predictability of product/service/project delivery
Ability to enhance team collaboration
Experience and experiment with selected Flow Management practices and their impact on work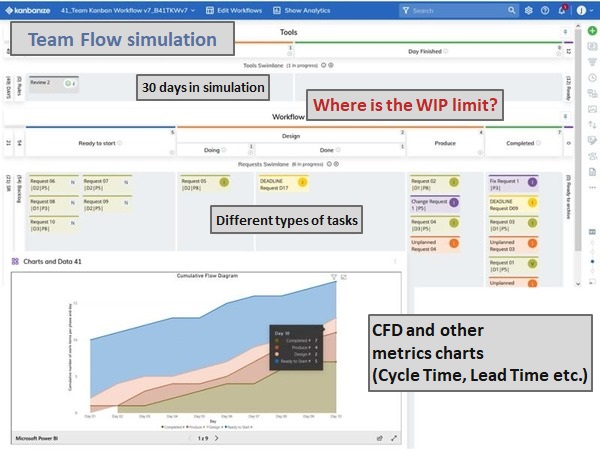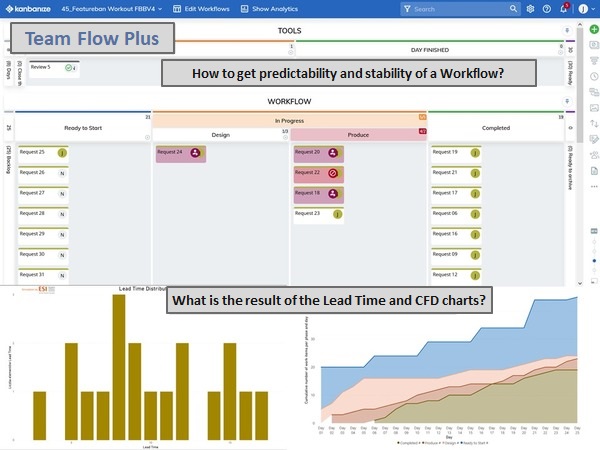 ---